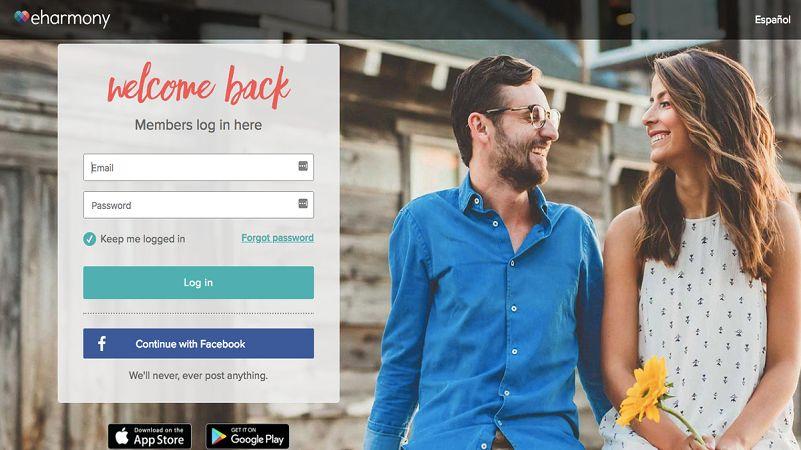 Los Angeles-based eHarmony (www.eharmony.com) launched in the United States in 2000 with its patented Compatibility Matching System® which allows eHarmony members to be matched with compatible persons with whom they are likely to enjoy a long-term relationship. Millions of people of all ages, ethnicities, national origins, and religious and political beliefs have used eHarmony's Compatibility Matching System to find compatible long-term relationships. 
User Experience on eHarmony.com
The user experience on eHarmony is 100% personalized for each individual user, but also very restricted. This isn't a site to throw out "Hi, how are you" or other generic messages and waits for responses. Instead, users can only see those people the site has identified as potentially good matches for them (so that means there are no browsing or searching features available). Members discover others based on the intentionally limited number of matches the site shows them each day. 

The more one uses the site. The more matches, and encounters that are possible. But due to the nature of only seeing a hand-picked yet small percentage of the total site membership each day. The online dating process on eHarmony is slower and more calculated than that on other online dating sites. This, of course, could be a deterrent to some. But with the tried and true success, eHarmony has in facilitating lasting romances. And marriages, in addition to numerous awards the site has received over the years. It's reasonable to consider dropping your need for instant gratification or mass attention in order to achieve real love. 
RELATED ARTICLE: Dating.com
Frequently Asked Questions
Does eHarmony.com really work?
Yes, I would say eHarmony does work. It is one of the largest and most successful dating sites. It primarily targets those seeking long-term partners or meaningful connections.
Why we join eHarmony.com?
Eharmony is a very famous website on the internet. Many people share their positive experiences with this website. eharmony is dedicated to finding loving, long-lasting relationships for singles.
Is eHarmony.com is free?
Joining is free on eHarmony you can create your profile and watch other profiles. If you want to use eHarmony to start chatting with people and finding that special someone, you are going to have to pay for an upgraded account.
Is eHarmony worth it?
Well, I think eharmony is a bit different from other dating sites. Success rates are good for finding your partners in eharmony.
How safe is eHarmony.com?
According to eHarmony privacy policy When you register for an account or subscribe to any of our Services, we collect a variety of information about you, including your contact information such as your name, email address, contact number, mailing address, date of birth, dating preferences, etc. We store information in a combination of electronic storage facilities, paper-based files, and other records. While we cannot guarantee your personal information is completely secure at all times, we have administrative, organizational, technical, and physical security measures in place to help protect against the loss, misuse, and alteration of the information collected and processed.
What kind of cookies does eHarmony.com use?
We use certain cookies to make sure that our website and our Service is easy, secure and safe to use.
How do I delete my account on eHarmony.com?
If your account does not have a subscription, you can delete your profile within your account by:
Clicking on the arrow next to your photo at the top of the screen to open the dropdown menu
Clicking the Data & settings link
Under the Profile Status section, click the link within To permanently delete your profile, click here On the following page you can confirm the permanent deletion of your profile
How success rate for eHarmony.com site?
Success rate for eHarmony, less than 40%. eHarmony may have a good reputation on the surface, but we took the liberty of checking whether it is a dating site worthy of your time. People who stay on this site have most likely upgraded their accounts. This can be pretty costly so, there is a huge possibility that you'll match with someone who is already stable.
Should I try the eHarmony.com?
If you are looking for a serious relationship, then this site is probably worth a try. Most of its members are in the age of settling down and building a family. eHarmony is in conjunction with the basic interface it might wear it has the web version. It is clean and easy to navigate and does not have a lot of promotions to deal with. The app allows easy scrolling through your match list and favorites' list.
How can I contact eHarmony.com?
There are many options to contact eHarmony, goto about, and then contact. There are Help Center, Careers, Press Inquiries, etc. You can check their Help Page if you have any issue and questions regarding your account.
Phone Number: +1-626-628-3467
Address: 10900 WILSHIRE BLVD,
Los Angeles California, 90024, United States
Reviews
This is a horrible site
This is a horrible site Again I can't seem to submit this review. I was here before and I'm seeing the same exact profiles. There are only a handful of profiles that I am matched with. Most of my matches are in another state. It doesn't matter if you put a 50 mile radius maximum. You will be matched with anyone and it's so random. The site is full of scam and fake profiles. Stay away from the site. It's a waste of your hard earned money.
It is a total scam
I paid for a six month subscription but did not realize I had to pay the total amount upfront. I have filed a dispute with PayPal. It is a total scam… stay far, far away.
Do not subscribe
Subscription policy is intentionally misleading – they will take £209 every 6 months in advance without informing you or giving you the opportunity to cancel. Do not believe the Ts and Cs which state that there is a 14 day cooling off period – they claim that this is the initial purchase only. Do not subscribe or cancel IMMEDIATELY you subscribe for the fist time
This is such a joke
This is such a joke… after they ask you all the questions, they match you with smokers, drinkers and on and on. All the things you said you don't want. And what about site: most of the people have high school diploma. Not to mention the scams: 2,3 a day! Stay away! These people have 3 subscribers and they rotate them in the match page.
I have wasted my money
This app has very few Australians on it. I get lots of likes from people overseas, mainly America but very rarely see any Australian men as matches let alone any in the area where I live. I feel like I have wasted my money.
Be careful!
I cancelled the day after subscribing to the free subscription! They've now signed me up for 12months! And continuously now harass me with emails etc. They've now sent me to collections! Be careful!
Simply liars and scammers
They then tell you to contact them and they will manually review it. I did this and got a generic response again saying I violated the terms but can't tell me what I did and no manual review. Simply liars and scammers.
Don't use this app!!!
This app is the worst I didnt have anyone talk to me, I mean damn am I that ugly or something, so I deactivated my account and never received my refund, total rip off!!! Don't use this app!!!
It is a great
It is a great way to meet people on this website.
It was ok
It was ok, kind of hard to maneuver and I wasn't sent matches that were what I was looking for.
Totally despicable
Totally despicable and dishonest site !!!
Seems like a waste of time
Seems like a waste of time – and potentially a waste of money too.
Avoid this site at all costs
I paid for a membership and it seems most profiles are fake. You are contacted a lot but you are almost immediately asked to leave the site for Hangouts or WhatsApp. The profile says they are in the same city but they are not. Not one "person" I spoke to was in my city. Everyone ended up wanting money for a scam. Reverse search the images and they are of different people. Avoid this site at all costs as the US government sued it for fake profiles put up by criminals
Dont waste your money
Dont waste your money. Some messages I received were not real.
I had a great experience
I had a great experience on this site l have met someone so very special she is my soul mate she is the best thing that has come into my life
Seemed much more genuine
From comparisons with dating sites I have tried before this seemed much more genuine, less fake accounts and no scams like on many other sites. I like there were no 3rd party adds and it was simple to use on the app.
It is just the beginning
I have met a charming, affectionate, caring and attentive gentleman on this site. It is just the beginning, but God willing, I am looking forward to a life long journey with her.
I found the girl of my dreams
I think overall was stoked with the results so far. I went out on a few dates and had a good time hooking up with some cool people. So far can't say that I found the girl of my dreams yet but I am just not really looking for that now anyway. I'm using their app on my cellphone and it's fast and there always fresh faces to rate and people to chat with.
It has worked for me
It has worked for me I have found my true love and soul mate
Everything worked
Everything worked out real smooth, pleasant experience!
This app has an online chat
This app has an online chat which allows members to send short messages in real-time. As long as you and the person you're chatting with is online, you'll be able to send, read, and receive these messages.
Very positive experience overall
This is a great site because all the girls come to you. Very easy to use and you can start talking to the girls very quickly. Very positive experience overall.
This is the best dating website in the world
This is the best dating website in the world, it keeps you informed all the time! And allows everyone to actually talk. The reminders are my favorite.
Easy to use website!
Easy to use website! Met my perfect match on my first date. Its so easy to break the ice on-line and ask those questions you normally wouldn't because its awkward in person. I am thrilled to have finally found my missing puzzle piece!!
Terrible site, no customer service
Terrible site, no customer service
Bunch of crooks
This company is a fraudulent ignorant bunch of crooks ! Continually charging renewal fees for a service I'm not subscribed to.
Scam people
Scam people, guys are not who they say they are, just looking for booty call, quite a few of the profiles have guys with sunglasses or out of focus pics, or pets, very evasive, monosyllabic conversations.
Its Scam
If you're seriously looking for someone "Run Forest Run" from this dating site! Every negative thing previously written is true; how the government hadn't shut this site down is a mystery? I compare it with a Nigerian scam from the "Barrister" wanting money?
please don't use Eharmony.com
please don't use Eharmony.com it's the worst dating app ever and they don't take responsibility for anything
Do not pay for this fake site
Women want to trick you into a "video chat". Totally fake. Can't believe there are so many dishonest people on this site. Do not pay for this fake site
Stay away
Women on this app are only looking for the most superfical guys.
Avoid this dating site
Avoid this dating site. False views, harassing messages, and men telling you off when you dont respond to them. Terrible dating site and a waste of money. Men stating I've "viewed" their profiles when I have not and then telling me off because I'm not interested. Completely misleading to give others the impression that you've looked into their profile when you have not. Do not waste your money or time on this site..
Eharmony.com is a huge waste of money
I subscribed to this site and found that most "matches" were not even online or recently online. It's a huge waste of money and time! I've tried other dating sites but this is by far the worst!